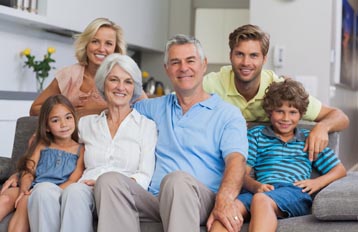 Seniors are special people — and they have highly specialized oral care needs that are different from younger patients. It's a Golden Age, and that's why we offer special care that's highly sensitive to your needs and concerns. Relax! You're in good hands. Geriatric oral surgery is our specialty. Dr. Puckett is an oral surgeon who is highly sensitive to your needs!
Some of the most common issues our senior patients have are arthritis and osteoporosis. Both of these conditions can have profound impacts on the bones and joints of the jaw. Plus, years of eating, smiling and just plain living have given those choppers a run around the block. Seniors often face increased wear of teeth and gums. They may have issues with their gum lines. Tooth loss may be visible. They may need tooth replacement options such as dental implants. They may require soft tissue grafting. They may even require a dental bone graft or full mouth reconstruction. If they have been injured, they may require a facial trauma surgeon.
As a highly qualified maxillofacial surgeon, Dr. Puckett has been in practice for over 17 years. He has developed a highly sensitive, gentle and specialized approach to geriatric oral surgery to address the needs of seniors.
Dr. Puckett does all forms of oral surgery, including soft tissue grafting, dental bone grafting, dental implant surgery, full mouth reconstruction, and tooth replacement. He is a highly specialized facial trauma surgeon.
Dr. Puckett for Oral Surgery: A Gentler Approach to Anesthesia
Understandably, our older patients have special concerns when it comes to anesthesia and other complex health issues. You want to feel relaxed and comfortable during your oral surgery experience, but you also want to be safe. Fortunately, Dr. Puckett has extensive training in all types of anesthesia sedation for oral surgery. He'll be able to address your concerns and explain his approach. We strive to maintain a comfortable, relaxing experience that's also safe, no matter your health concerns. We're experienced at treating older patients with all types of health issues.
Do You Experience Anxiety?
It's natural to feel some fear and anxiety at any age in a dental chair. These fears become more pressing when the treatment involves oral surgery, and understandably even more of a concern if you are an older patient. That's why we like to walk you through the process and address any questions or concerns you might have. We use the latest advancements in technology when it comes to pain management. Dr. Puckett is licensed to administer all types of sedation for oral surgery.
Protecting the Health of the Jaw Bone
As an older patient, you may have advanced needs when it comes to jaw bone health. This can be impacted by your overall dental care, bone density issues, as well as missing teeth. As we age, the health of our bones decline. Dr. Puckett understands this issue intimately. Jaw bone health affects our approach to treatment. Rest assured, we will come up with the best approach to address your oral health issues while optimizing the health of the jaw bone.
Geriatric Oral Treatment Options
We take a number of oral surgery approaches when it comes to the treatment of our seniors. This can include dental implants — an effective treatment for tooth loss that results in a smile as good as new, no need for the hassle of dentures. We can also do dental bonding to improve the appearance of the smile. For advanced tooth loss, we can even do full mouth restoration for a beautiful smile you'll be happy to share with others.