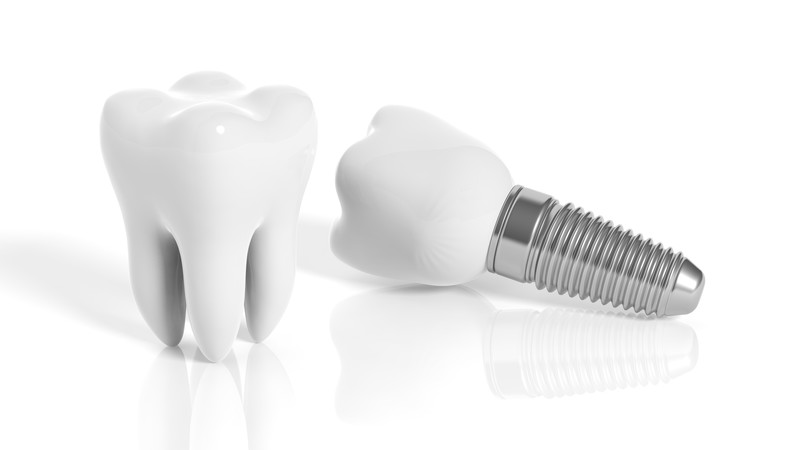 Missing a tooth, multiple teeth or all of our teeth? Dental implants can restore your smile — not just good as new, but better than ever before. Dental implants are surgically placed in your jaw, essentially screwed in like a rooted tooth. Unlike dentures, dental implants are permanent: They stay in all the time and are for all practical purposes identical to your natural tooth, only more perfect.
Usually, dental implant surgery is a 2-step process. First, we remove the original tooth or teeth. Often, this process involves bone grafting to prepare your mouth for the dental implant as well as to preserve the bone. Second, we surgically screw the new implant in place, allowing it to heal for 2 to 4 months so the implant and the bone can join.
Then, Dr. Puckett will coordinate the crown with your dentist.
Many times we can do the removal and implant in one visit, thanks to technological advancements our office has embraced. This is ideal because it saves about 3 months in the process and minimizes your visits.
Cost Savings — How We Can Save $300 to $800 on Dental Implant Surgery
Dental implant surgery is usually the approach we recommend because the results are as good or better than your natural tooth. The only drawback is cost. Dental implants are more expensive than dentures or other alternatives.
The good news is we can offer you better savings than you'll get at most oral surgeons. In most cases, we can save you $300 to $800 — and you'll get a better treatment plan in the process.
A More Affordable Comfortable Approach to Dental Care
That kind of savings sounds too good to be true, but the truth is it's because we take a more thoughtful, strategic approach to your care. We put your priorities, comfort and financial considerations ahead of the whims of your insurance company. We like to treat patients, not insurance company stockholders.
First, we only charge for the amount of anesthesia time needed for the procedure. Many oral surgeons instead charge for the amount of anesthesia allowed by the insurance company (60 minutes in four 15-minute increments), even when the procedure usually takes far fewer than 60 minutes.
Second, we base our fees on our understanding of the value of the service and care we provide — not the recommended amounts listed in the 'Fee Schedule' book which most oral surgery and dental offices use. This results in substantial financial savings for our patients.
Finally, we don't let insurance companies dictate our patients' needs. Dr. Puckett is the surgeon after all; you are the patient. Insurance companies may be running a business, but they should not be allowed to limit the quality of care we provide you.
A Smarter Approach to Technology, a Natural Approach to Healing
Dr. Puckett believes in the power of technology. It increases the quality of care we can provide. We use the latest state of the art equipment and science to deliver you the best care possible. You're in good hands.