Read Reviews For Wilmington Oral Surgery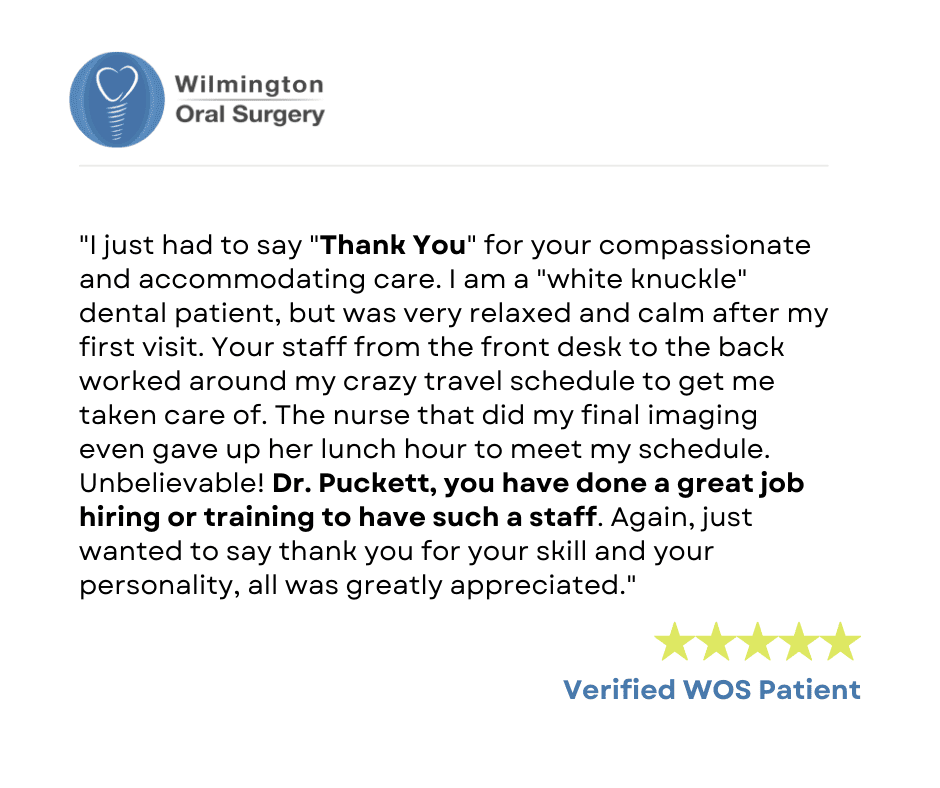 ---
Everyone was very kind, professional & efficient. I am very pleased with how my procedure went & how my recovery has been.
Large Marge
January 24, 2023
As someone with severe dental anxiety, I highly recommend Dr Puckett and his staff. From the initial phone call to the actual surgery, and everything in between, every single person in the office was amazing. They treated me with kindness, humor, and understanding. I can not say enough about how wonderful everyone was and how smoothly my surgery went.
Robin Lawrence
January 23, 2023
Dr. Puckett and his staff are amazing
Jennifer Kaehler
January 23, 2023
Always a positive experience, stress free procedures. Staff and Dr. Puckett are top notch !!
Amy Huebner
November 26, 2022
Got my wisdom teeth taken out and they were more than likely by far the best to do that for me.
Kimberly Kreal
November 23, 2022
Very friendly staff. Very professional. Showed empathy to their patients. Would recommend them to anyone
Val Stewart
November 22, 2022
Very friendly, very informative. Was nervous but staff and doctor were great!! Definitely return if I need this service again.
Becky Caton
November 22, 2022
Awesome group of people! All phases of my experience were excellent!
John L
November 22, 2022
Christopher Lindsley
September 19, 2022
Kristi Keller
September 19, 2022
Had a great experience . Highly recommend for any oral surgery needs. If I need any other oral surgery performed, I will be going back to dr puckett. Exceptional service all around!
Carlei Moore
September 12, 2022
I had 4 wisdom teeth extracted and I was able to go back to full-time teaching in 3 days! I healed so quickly and never needed pain meds!
Kathryn Cora
September 7, 2022
Great team. Professional and caring from start to finish.
Dustin Stevens
September 6, 2022
Ouch, but they are out. Healing and waiting for next phase. Doctor Puckett is very kind and patience with you. He is a hoot and relaxing to be around.
Jeff Vossler
September 6, 2022
Bettina Myers
September 2, 2022
There are not enough wonderful things that I can say about Dr. Puckett and his staff. I have extreme anxiety and the fact that I got to the office is a testament to the lovely ladies on staff who calmed my fears. Dr. P came in and calmed me even more. I couldn't believe that a place this professional AND so well trained existed. It made having to go back for a different issue so much easier. He was so understanding about our financial situation as well. I will never go anywhere else and I refer people to him any chance that I get. Thank you so much. All of you are golden in my book. God bless you!!
A E Farkas
July 16, 2022
If I could give this place more than 5 stars I would. The staff and dentist is beyond amazing. They are quick to get you in and have excellent service. I had 3 teeth extracted from here in May and ended up taking my 3 yr old son here today. They did a great job with him. He was not having it but they got him done quick and easy. And they tried hard to make him feel good about it. Thank you again to all the staff and wonderful Dentist.
Kaitlynn Colvin
June 24, 2022
Just a shout out to Dr. Puckett and his staff... As an employee at the local cancer center, the oncologists and staff here have been so grateful for his kindness and compassion in taking on our low income patients and assuring that they have dental care and clearance prior to starting cancer treatments. He has showed kindness and compassion at his own personal financial loss to assure that the most ailing members of our community can get the care they so urgently need. He is not just a wonderful oral surgeon, but an angel on earth to our most desperate patients.
Aunt Rae
April 6, 2022
I had my consultation back in November with Dr. Puckett to have my wisdom teeth removed and he and his staff was so friendly and funny. They explained everything so well. Dr. Puckett even sent me home with the prescriptions orders to get my painkillers ahead of time. When the day of surgery came they took good care of me. They sent me home with a couple sets of ice packs and something to put them in that I could wrap around my head. Someone left a picture of what this looks like in their review. They'll also send you home with a gel to put in your sockets to prevent dry socket. My recovery was pretty smooth overall. I would highly recommend this place to anyone looking to have their wisdom teeth removed!
Jackie Hood
March 22, 2022
Dr. Puckett and his staff are absolutely amazing! From the consultation, to the actual surgery, and with the financial side of things everything was absolutely perfect. I was terrified to have this procedure done, but my dentist said I needed to have my wisdom teeth extracted. I had heard so many great things about Wilmington Oral Surgery and Dr. Puckett that I decided to go and have a consultation. I even went out of network to go here and I am soooo happy that I did bc my experience was better than I ever could have imagined! I had to have all 4 wisdom teeth removed and I am telling you that I had ZERO PAIN during the procedure and ZERO PAIN during recovery. I healed quickly and never had to use the prescription pain medicines that they give you. If you are looking for an oral surgeon Dr. Puckett is the one!
Clarissa Walls-Parker
February 9, 2022
I had my wisdom teeth removed, a couple days ago, and the recovery has went so much better than I've expected. Virtually zero pain whatsoever. Dr. Puckett and his staff are so kind, and make your experience so comfortable and smooth. I definitely recommend having Dr. Puckett remove your teeth, he knows what he is doing.
Tyler Meddock
January 27, 2022
Great place and staff
World Traveller
November 30, 2021
I'm so thankful for Dr. Puckett and his amazing staff. My 10 year old needed to have several baby teeth and one adult tooth removed, and after having been given the runaround for *months* from another oral surgeon's office (only to find they were ultimately shutting down) Dr. Puckett's office got us in quickly, and we were able to get my son's surgery scheduled very quickly, as well. My son, who is terrified of dentists, was completely comfortable with Dr. Puckett and his staff. Dr. Puckett had him laughing and at ease 60 seconds into his first visit. My son's surgery was completed this morning, and he barely had any nervousness at all walking into the office today. For a child who previously panicked at the word "dentist", that's pretty incredible, and is further proof of how comfortable my son felt there after only one visit. Thirty minutes later, they were bringing him out of surgery, a little groggy, but in great shape. Thank you so much, Dr. Puckett, Rebecca, Kelsie, and to all the other staff who took such fantastic care of my son and put my worries at ease.
Rachel
August 6, 2021
This is for anyone with extreme anxiety and is feeling anxious about getting their wisdom teeth removed. I have extreme anxiety and almost chickened out. Never been under before. The doctor and his team made me very comfortable and it was over in what felt like seconds. Overall a fantastic job by the whole team. Thank you all very much.
Charles Newton
June 4, 2021
I have had a lot of issues with Dentists in the past few years, to say I was initially less than thrilled to go to another. But Dr. Puckett really turned it around in the consultation, he listened to me about my chronic illness, my concerns about my healing process, and assured me that nobody would be taking my teeth home but me if I asked for them (I know it's silly but I had a dentist demand my extracted tooth once). I could not be more happy with the professional and calm nature of not only Dr. Puckett but his entire staff. I have no fears when getting my teeth extracted tomorrow!
Emily Spencer
May 27, 2021
Would recommend to anyone needing an oral surgeon. Very friendly staff and Dr. Puckett is super nice and and knows his business
Sharon Lane
April 30, 2021
I can't say enough wonderful things about the staff and Dr.Puckett. The staff is incredibly nice and caring and they make sure you understand everything that is going to be done. My daughter loved the doctor and staff and they did so great she wasn't even nervous about her procedure! Absolutely wonderful experience, highly recommend these guys!!
Michelle Parrish
November 17, 2020
I would give Dr. Puckett and Staff a 10 Star rating if I could. Most pleasant experience ever! Staff is so so nice and you can tell they love their job. They are organized, thorough and professional. I remember Doc making me laugh while putting my IV in ( sedation) and him asking what my favorite pasta is and then I woke up ready to go home. So happy today was a good day! Thank you doc & staff.
Janette Heberling
September 16, 2020
Great staff, works wonders, had wisdom teeth removed and healing process was quick and minimum pain.
Cheyenne Randall
July 6, 2020
They got me in the next morning very friendly.
Cheryl McFadden
July 5, 2020
I can't say enough good things about Dr. Puckett and the office staff. My husband has a unique situation and Dr. Puckett was more than willing to help us navigate our way through. Scheduling was extremely easy and efficient. The office is beautiful and clean. The ladies at the front desk are welcoming and made us feel comfortable during a very nervous time. Five stars all the way!
Kris Guffelz
May 29, 2020
ABSOLUTELY AMAZING!!! The entire office was so kind and made my daughter feel so comfortable! We are so thankful for the care we received❤️
Jennifer Purvis
March 4, 2020
Had 2 wisdom teeth removed yesterday. Literally in no pain at all this morning, just sore. He's amazing, the staff is amazing. I would recommend them 100%!!!!
Amanda Kempke
March 3, 2020
Heather Miles
December 2, 2019
Very nice helpful staff. The doctor is top notch.
Bret Ferguson
November 5, 2019
I had 12 extractions on March 8th,Dr Puckett was amazing I had IV sedation and slept through it woke up with no pain and today 1 day post op minimal pain.The staff were all so nice,I highly recommend Dr Puckett.
Kandi Bushatz
March 9, 2019
Friendly staff totally great had two teeth pullled could not have asked for a better experience 👍🏽👍🏽
JARED SOMMERS
March 8, 2019
They were nothing short of helpful and delightful for our entire family to work with. Highly recommend to anyone. 10/10
Matt Senteney
December 7, 2018
We just had our consultation and loved Dr. Puckett! My daughter feels very comfortable now about having her wisdom teeth. The staff was also very nice.
Summer Wilson
April 16, 2018
If I could give 6 stars I would! Dr. Puckett and his staff are absolutely wonderful! Very nice, clean building and awesome waiting area. They got me in same day after being seen in the ER. Very thankful for such great care!!
leslie valle
January 23, 2018
Fast and efficient
Mikayla Woodmansee
October 9, 2017
I never actually review things, but this man is worth the effort. Five stars, enough said.
Mattea Benz
September 8, 2017
By far the best dentist i have ever been to! He is funny which is a great distraction. He just removed one of my wisdom teeth and i am healing great. The office is clean and everyone that works there is nice. Very happy i came here!
Hannah Barre
August 16, 2017
Absolutely the finest! Dr. Puckett and his staff are the greatest... I needed work done the week before July 4th, they fit me in their busy schedule and got my work done. Friendly and professional!!!! Thank you for all your help!!!
Leesa Cox
June 30, 2017
Megan Harvey
March 7, 2017
Scott and his staff are the best! The wait time for your appointment is quick. They do not waste your time. They are so friendly and honest that we drive 1 hr each way when our kids need their wisdom teeth pulled. It's totally worth it. They give you a brilliant cold pack that stays on the faces when wrapped. Each of our kids has had a speedy recovery. Scott's the best!
Sonnie Woodruff
November 3, 2016