Read Reviews For Wilmington Oral Surgery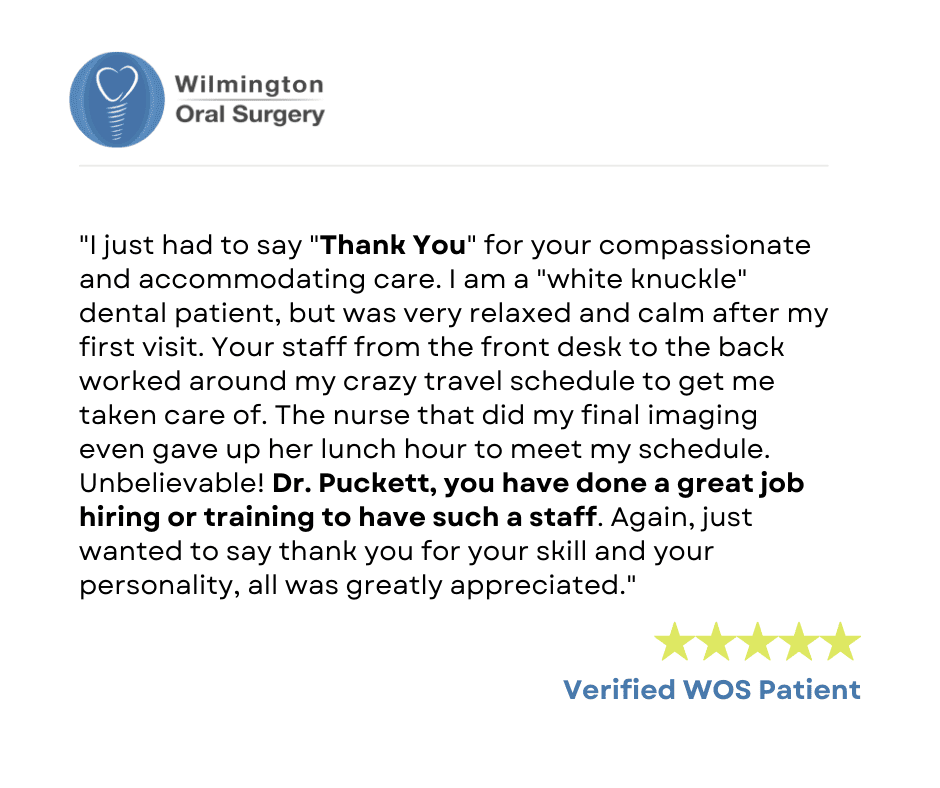 ---
Very professional Staff and MD pleasant
Yvonner Williams
September 9, 2023
Very well treated and would recommend them highly
John Folkert
September 8, 2023
The staff and Dr Puckett are so great took the time to answer my questions helped me to figure out the finances great care it is worth to talk with them if you are thinking about getting implants talk to them it will be worth it
brenda tilton
September 8, 2023
I'm happy because I was not the patient! 😂 But, all 3 of my kids have had to visit Dr. Puckett and he has been amazing every. single. time. He has mastered the art of making someone who is apprehensive and nervous, feel much more comfortable and at ease. My son told me after his visit "…and I couldn't even match his energy today!" I have never seen Dr. Puckett in any mood other than happy, energetic and positive. The office staff has changed faces a few times over the years that we have been going there, but never have we been treated poorly by any of the staff, from the front desk to the surgery assistants. I will always recommend this office. However, the bad news is that Dr. Puckett can never retire, because there is no one that will be able to replace him.
Ginny King
September 6, 2023
I am amazed so far at the lack of "after" pain. When I arrived back home I removed the gauze and gently allowed the accumulated mess to run out and repacked. The "sockit' gel is working for me. I had almost no blood in my saliva this morning. Very miniscule pain. So far, very slight swelling. You are all good & decent folks. Thank you. This should be the gold standard for oral surgery!
Dojo Roda
September 6, 2023
Donna Tessneer
September 2, 2023
Awesome
Steve
September 1, 2023
Friendly staff, very professional and Dr Puckett is a great Oral Surgeon.
Samone Kuttler
September 1, 2023
John Rose
September 1, 2023
Dr. Puckett is wonderful! So nice and informative with what was going on with me. Knows what he is doing and make you feel calm and reassured during your appointment. Definitely recommend!
Tabitha Short
August 29, 2023
It was an amazing experience from the lobby to back room. The staff was very personable and informed me greatly on everything I needed to know even awkward things to talk about like billing and the specifics of the treatment.
Austin Klosterman
August 29, 2023
No wait. In and out. Friendly staff.
James Marion
August 25, 2023
One of the best places I have been for dental care. Dr Puckett is very upbeat and all about your care. Would recommend this facility to everyone.
Debbie Rittinger
August 25, 2023
Great office and staff! All super friendly and Dr Puckett is hilarious and best oral surgeon around.
Jennifer Seabaugh
August 25, 2023
Sierra Jones
August 24, 2023
Staff and Doctor was very friendly and knowledgeable. Instantly felt comfortable like they care. I had an extraction and it went very well. I love this practice, would definitely refer others.
Vera Powell
August 23, 2023
Excellent service all the way around! From check in to doctor's care.
DaQuawna Dunnican
August 22, 2023
Do they take Caresource or buckeye
Crystal Stroop
August 17, 2023
Catherine Gross
August 15, 2023
Anthony Grey
August 11, 2023
Dr Puckett and staff are the real deal. Personable, straight forward, and professional. 1st class service
Jack Kretchek
August 11, 2023
Great experience. Office very efficient and professional. Highly recommend!
Kelly Busam
August 9, 2023
Sheila Schmitz
August 7, 2023
Everybody from the receptionists to the oral surgeon were so nice and friendly. Dr. Puckett is very thorough on explaining things and he throws some humor in which makes people feel more comfortable. I'd definitely recommend this place!
Kirstin Garner
August 5, 2023
Dr. Puckett and his staff are amazing! They are friendly and professional. They are all so knowledgeable and helpful.
Shannon Black
August 4, 2023
Very professional,they know what they're doing.
Belinda
August 4, 2023
Best oral surgeon ever! I've been to him A couple of times, He's the best hands down!! So caring and honest!!!! He takes hos time explaining everything!
Kimberly Mongold
August 4, 2023
Wayne Shaffer
August 4, 2023
Everyone was so nice! They talked to you about concerns you have and Dr. Puckett is a wonderful doctor!
Gracie Lawson
August 4, 2023
Dr Puckett and staff are great. The doctor makes sure you feel no pain. I would recommend Dr Puckett if you have a need for oral surgery
Louise Francis
August 2, 2023
Caroline Goolsby
July 31, 2023
Dr. Puckett and his staff were so up front and honest with me. I really appreciated the extra time that he took with me. He helped me understand the choices I had and what would be my best option.
Tamie Thornberry
July 30, 2023
Procedure went well, and I'm pleased with the surgery!! 🥳 The staff is amazing making you feel comfortable and at home A++ for them all
zack williams
July 28, 2023
Amazing staff and surgeon. They are so top shelf and I Will recommend them to anyone.
GrandPa Grinding
July 28, 2023
Brenda Warner
July 28, 2023
Staff is wonderful and Dr. Puckett is great.
Linda Reese
July 28, 2023
Dr. Scott Puckett & his staff exceptional. They were able to schedule me for a consultation within one working day. My consultation went extremely well. Dr. Puckett & his technician, Stephanie, explained the complete process and likely outcome of my surgery. Dr. Puckett and his staff are easy to talk to, professional, caring & very knowledgeable. They work through my insurance and out-of-pocket costs, so everything was upfront with regard to making a decision to move forward. They scheduled my first surgery less than three weeks after my consultation, which is extremely fast. In sum, I would highly recommend Wilmington Oral Surgery to all of my family and friends if they need their services a very caring and professional dental office. Thank you.
Chuck Arneson
July 26, 2023
Pamela Heinbaugh
July 25, 2023
Had the best experience. The care team at this office is very kind and caring, and Dr Puckett is amazing!!!!
Kerline Resor
July 25, 2023
They were great I had my bottom teeth removed 2 weeks ago, and top ones yesterday never had to take any pain medication not even advil I would recommend them to anyone
Danny Keller
July 25, 2023
Great Staff and Doctor. Highly recommend.
Chip Murdock
July 25, 2023
I was scheduled to have all my teeth removed, for my false teeth. This care team, and Dr Puckett are the absolute best at helping you feel at ease and comfortable, and explaining every step! I was very anxious when I arrived, and they quickly put my mind to ease! I love the entire team, and would refer anyone that I love to this office! Thank you!!
Cynthia Hammon
July 12, 2023
Dr. Puckett and his staff are so friendly and great that your dental anxiety fades away!!
Shianne Ludlow
July 11, 2023
They always put you at ease.
Gail Matson
July 10, 2023