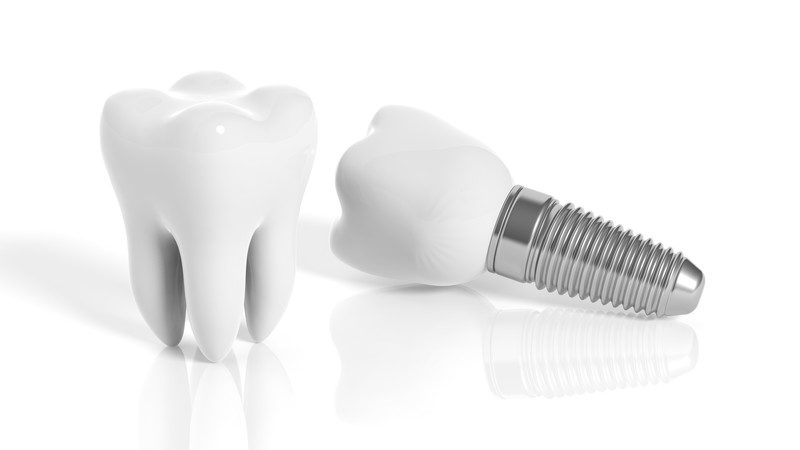 Everyone deserves to have a beautiful, healthy smile. Unfortunately, sometimes that's just not in the cards for us; occasionally it's not even our faults. Facial trauma and illness can hurt your oral health, resulting in loose, decaying and, eventually, missing teeth. There are several options to restore a smile with oral installations – bridges, dentures, permanent dentures – and all offer their own benefits, which should not be understated.
However, there's little argument that dental implants are the most effective and holistic way to reconstruct a smile. They replace teeth comprehensively, which has health benefits both above and below the gum line. And unlike other tooth replacement options, they last for several decades when properly cared for.
Let's take a closer look at the types of dental implant procedures we perform at our Wilmington office:
Understanding Dental Implants for Oral Reconstruction
If you're missing any teeth, dental implants are the best option for tooth replacement. A dental implant is a small titanium or zirconia post (screw) that we surgically attach to your jawbone. This is what eventually allows the metal or ceramic implant to function like a natural tooth.
Once installed in the jaw, the dental implant fuses to your jawbone, forming a stable foundation that, once healed, is every bit as functional as a natural tooth root. And this doesn't just include a root's structural purposes.
When you lose a tooth, the jaw bone around that empty socket begins to lose density and shrink from deterioration. This shifts your other teeth, which increases risk of further damage, decay and gum disease. Temporary and semi-permanent tooth replacement options like bridges and dentures fix your smile, but don't preserve your jaw the way dental implants do, because they don't replace the "root" of the problem.
Dental implant surgery may sound intimidating, but nowadays it's a fairly common and fairly simple procedure that is drastically less painful than it used to be. Sometimes, dental implants are done for purely cosmetic reasons — other times they're functional/restorative. Whatever the case, they are a big investment worth considering carefully. When it comes to dental implant surgery, it pays to do your research.
If you need a tooth replacement, you're probably wondering what are the best dental implants for you? Let's take a look at all the available options for dental implants.
Endosteal Dental Implants for Standard Tooth Replacements
Also known as endosseous implants, endosteal dental implants are by far our most popular dental implant. This is the type of implant that is surgically placed into your jawbone at the site of the empty socket. These are the best options for dental implants for most patients with overall good oral health.
However, not everyone is eligible for this standard dental implant procedure. They require a good, healthy jawbone to properly fuse to the post. So if you have severe gum disease, are immunocompromised or are elderly, this option might not be for you.
Dental implant surgery is a process; there is some healing time required. The implant and your jawbone must have time to fuse together and heal. This ensures the implant will serve as a permanent foundation for the artificial crown that will eventually be attached.
Once healed, an artificial tooth can be screwed onto the post so it fits in with your surrounding teeth. We'll be careful to be sure the new tooth matches the color of the surrounding teeth so everything looks natural. Once patients heal from this particular dental implant surgery, many forget they even have had a tooth replacement.
Subperiosteal Dental Implants for More Complicated Cases
Subperiosteal implants are likely your best alternative to endosteal dental implants. They are a great solution if you don't have much jawbone to work with and a jaw bone graft won't do the trick. Instead of being screwed into the jawbone, these implants instead rest on top of the bone but still under the gum. A metal frame is placed under the gum and attached to a post. The gum will heal around the post to hold it in place.
Subperiosteal dental implants look natural as well, but don't have the same structural integrity as endosteal dental implants since they don't fuse to the jaw. They'll need replaced every few years, and will not prevent the jawbone below from changing and shrinking. However, they restore your ability to eat and speak naturally, and only require standard dental care.
Zygomatic Dental Implants for Deteriorated Jaw Tissue
Some patients have jaw bone that is too degenerated to anchor any kind of implant in place, even soft tissue-anchored implants. Zygomatic implants are rare, and are intended to replace the teeth in the upper jaw. They require a complicated and invasive procedure that should only be done if you are not a good fit for endosseous implants or subperiosteal implants.
Zygomatic dental implants are placed in your cheekbone rather than your jawbone, since your cheekbone (zygomatic bone) is much denser than your deteriorated jawbone. Because of the density of the cheek bone, this type of tooth replacement can be a same day dental implant, as you don't have to wait for the bone to heal around the screw before attaching the replacement teeth.
Zirconia Dental Implants for Non-Metal Tooth Replacements
Zirconia dental implants are noted not by their implant method but by the material they are made from. These implants are an alternative to titanium implants, which are the industry standard. Invented in 1987, zirconia implants are made from a transitional metal called zirconia. Since zirconia is technically a ceramic, many consider this type of implant a more holistic tooth replacement than titanium.
Zirconia is a ceramic consisting of the elements Zirconium and Oxygen (1 atom of Zirconium & 2 atoms of Oxygen). It is considered a transitional metal with an atomic number of 40. Zirconia dental implants contain the metallic atoms of Zirconium, but are not considered to be a metal because of its metal oxide structure (ZrO2). The additional oxide changes its composition structure, behavior, and name.
Zirconia implants, sometimes accidentally referred to as zirconium dental implants, are the best dental implant option for those who might be allergic to metal. They're also a good alternative to titanium if you are worried about the appearance of titanium implants and gum recession, as zirconia implants are also tooth-coloured.
The catch is that titanium implants have a higher success rate at 97%. Zirconia implants also have a slightly higher rate of breakage. And since they were only invented in 1987, zirconia implants haven't been around relatively long, so we don't truly know their long-lasting effects. But these implants are great for soft-tissue response and biocompatibility, and our patients have had great luck with them.
Same Day Dental Implants for Patients with Great Oral Health
Thanks to modern technology, same day dental implants are possible — providing you have a healthy jawbone and your dental health meets certain conditions. The beauty of having dental implants done on the same day is it minimizes your time in the chair, as well as cuts down the number of trips you need to make to our office. This is especially convenient if you are coming some distance to see us, say if you live in Columbus, Cincinnati, or Dayton.
With this dental implant procedure, we install the abutment and crown at the same time. Sometimes we will bond the new tooth to the teeth that flank it in order to help the implant post stay stabilized while your jaw takes its time to heal around the implant post. Between this specialized same day dental implant surgery and our cost-cutting method of billing for dental implants, our office is worth the trip from those metropolitan areas.
Finding the Best Dental Implant Dentist for the Job
Dental implants are one oral surgery that requires patience – both on the part of the patient and our oral surgeon. It helps if you work with an oral surgeon best suited for the job — someone who can do all kinds of dental implants, including those more difficult cases. This is especially true if you have problems with a deteriorating jawbone and may need additional procedures done such as dental bone grafting in order to ensure a successful dental implant surgery.
Dr. Puckett specializes in dental implant surgeries, including ones that require bone and/or soft tissue grafting. Our office's state-of-the-art, holistic methods of dental grafting and mouth reconstruction are also affordable, because we bill only according to services rendered, not industry-standard increments. With dental implants, this saves our patients upwards of $300 per implant.
Our oral surgeon, Dr. Puckett, is licensed in all methods of anesthesia, and skilled in both pediatric and geriatric oral surgery, including facial trauma reconstruction and intricate myofascial procedures. We offer services such as wisdom tooth extraction, permanent dentures, bridges, root canals, and more.
Think dental implants might be right for you? Schedule a consultation with us to find out!