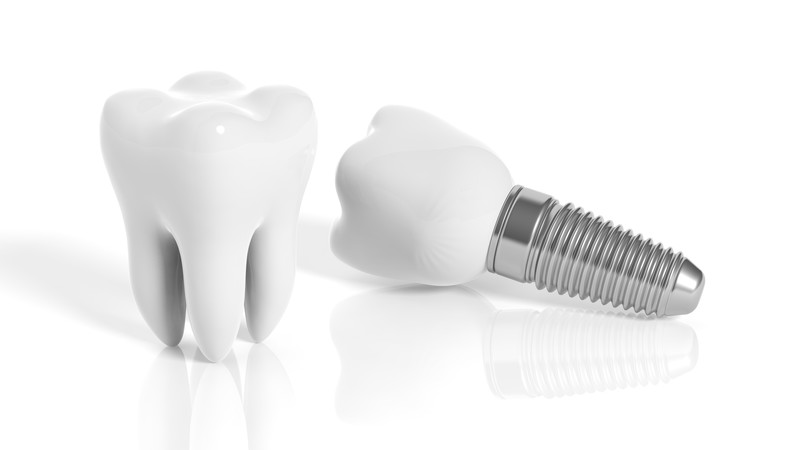 If you're missing any teeth, dental implants are the best option for tooth replacement. A dental implant is a small titanium post (screw) that we surgically attach to your jawbone so that it functions like a natural tooth. The dental implant fuses to your jawbone for a stable foundation that's every bit as functional as the real thing.
Sometimes dental implants are done for purely cosmetic reasons — other times they're functional. Whatever the case, they are a big investment worth considering carefully. When it comes to dental implant surgery, it pays to do your research.
What are the best dental implants for you? Let's take a look at all the available options for dental implants.
Endosteal Dental Implants
Also known as endosseous implants, endosteal dental implants are by far our most popular dental implant. This is the type of implant that is surgically placed into your jawbone. These are the best options for dental implants for most patients. The only drawback is they require a good, healthy jawbone for the post to fuse to. If you have severe gum disease, this option might not be for you.
There is some healing time required. The implant and your jawbone must fuse together and heal. Then an artificial tooth can be screwed onto the post so it fits in with your surrounding teeth. We'll be careful to be sure the new tooth matches the color of the surrounding teeth so everything looks natural.
Subperiosteal Dental Implants
Subperiosteal implants are likely your best alternative to endosteal dental implants. They are a great solution if you don't have much jawbone to work with. Instead of being screwed into the jawbone, these implants instead rest on top of the bone but still under the gum. A metal frame is placed under the gum attached to a post. The gum will heal around the post to hold it in place.
Zygomatic Dental Implants
Zygomatic implants are rare. They require a complicated and invasive procedure that should only be done if you are not a good fit for endosseous implants or subperiosteal implants. Zygomatic implants are placed in your cheekbone rather than your jawbone.
Zirconia Dental Implants
Zirconia dental implants are noted not by their implant method but by the material they are made from. These implants are an alternative to titanium implants that are the industry standard. Invented in 1987, zirconia implants are made from zirconia — a ceramic non-metal alternative that is considered more holistic.
Zirconia is a ceramic material made of zirconium and oxygen elements. While Zirconium dental implants contain metallic Zirconium atoms, they actually have a metal oxide structure that's different enough to not be considered metal. Because of this,  it is the best dental implant for those who might be allergic to metal.
The catch is that titanium implants have a higher success rate at 97%. And since they were only invented in 1987, Zirconium implants haven't been around relatively long, so we don't truly know their long lasting effects. But these implants are great for soft-tissue response and biocompatibility.
Same Day Dental Implants
Thanks to modern technology, same day dental implants are possible — providing you have a healthy jawbone and your dental health meets certain conditions. The beauty of having dental implants done on the same day is it minimizes your time in the chair, as well as cuts down the number of trips you need to make to our office. This is especially convenient if you are coming some distance to see us, say if you live in Columbus, Cincinnati, or Dayton.
Finding the Best Dental Implant Dentist for the Job
Dental implants can be a challenging oral surgery. It helps if you work with an oral surgeon best suited for the job — who can do all types of dental implants, including the more difficult types. This is especially true if you may have problems with a deteriorating jawbone and may need additional procedures done such as dental bone grafting in order to ensure a successful dental implant surgery.