Dental implants have become a common method for tooth replacement in recent years. Dental implants restore tooth function, and give you back your dazzling smile. Other methods can replace the appearance of your teeth, but what makes dental implant surgery the best and most holistic tooth replacement method is that it also preserves the health of your jaw and your other teeth. Most people forget they have dental implants once they have healed from surgery, and maintaining implants is as simple as brushing and flossing your teeth, and visiting your dentist twice a year for checkups.
Finding an oral surgeon to provide dental implants in Cincinnati is easy, but you want to choose someone with a lot of experience and who uses the latest techniques.
Cincinnati Dental Implants – In One Day
With new technologies, it is now possible to get dental implants in Cincinnati in just one treatment visit if your case is straightforward. Same day dental implants? Sign us up!
A dental implant has three parts:
• the implant body, which takes the tooth root's place
• an abutment, which connects the implant body to the crown
• the crown, an artificial tooth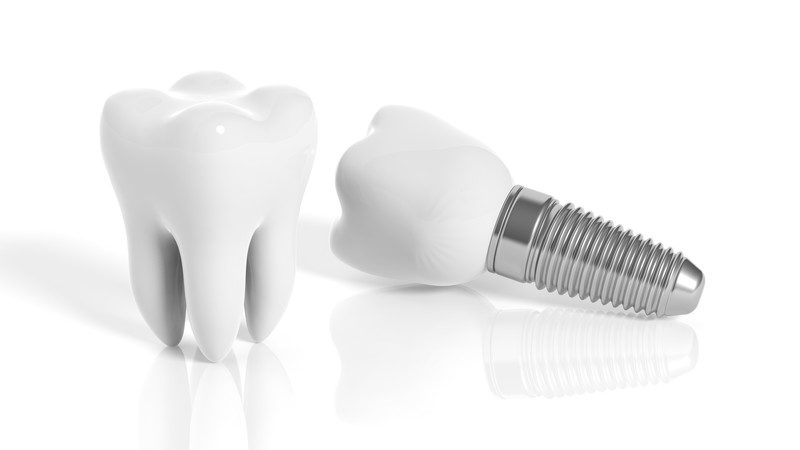 With new technologies, it is now possible to get dental implants in Cincinnati in just one treatment visit if your case is straightforward. Same day dental implants? Sign us up!
The standard material for dental implant bodies is titanium, because it's a biocompatible material with very little chance of rejection. But our office also offers zirconia dental implants, sometimes mistakenly referred to as zirconium dental implants. Zirconia is technically a ceramic, so even patients with metal allergies can still get state-of-the-art, holistic tooth replacement.
Before the dental implant surgery, you may need to use an anti-bacterial mouthwash and take an antibiotic for a few days. This is to clean the area and prevent infection after the surgery. You will need to arrange for someone to drive you to and from Wilmington Oral Surgery if you use Dr. Puckett and choose to be sedated for the procedure. We offer several types of sedation for oral surgery, and Dr. Puckett is a licensed expert at administering anesthesia safely and effectively in every procedure he performs.
Understanding Dental Implant Surgery
Dental implant surgery requires a few steps, and depending on the state of your jaw health, there may be a few weeks of healing time between the procedures. The initial surgery is to remove the damaged teeth if they are not already out. Dental bone grafting may be needed at this stage to prepare the site(s) and preserve the volume of jawbone. The next step is to install the dental implant body. After the implant body is placed, the abutment is screwed in. The gums are closed, and after healing, your dentist will apply the crown in coordination with your oral surgeon.
Patients who are in general in good health and who have healthy jaws and gums may be able to get same day dental implants. You can rest assured that Dr. Puckett will thoroughly analyze your case before deciding on a treatment plan, and that he will choose the option for tooth replacement that is the best combination of comprehensive and efficient.
As the technology for dental implants has improved, the pain involved in getting an implant has been greatly reduced. Computer-assisted planning at Wilmington Oral Surgery makes the process more efficient, cuts down the need for bone grafting, and makes recovery easier. Most patients find they are more comfortable after the procedure than they thought they would be. With proper sedation and recovery behavior, many patients return to regular activities the following day.
Give our office a call today for a free consultation. Whether it's standard dental implant surgery you're looking for, or same day dental implants, we'll help you find the best solution for restoring the health and appearance of your smile.